Applications of Pulse Shaping
There are many application of pulse shaping. Here are a few examples, along with schematics of experimental layouts.
Get more information about our pulse shapers at the products page. Call or email for quote.
Please contact us with questions about how to use pulse shaping in these and other experiments.
2D IR and 2D Visible Spectroscopy
& Coherent Control

Pulse shaping is quickly becoming the preferred method of collecting 2D spectra.
The majority of the laser source is sent through a PhaseTech pulse shaper, which generates the pump pair. A smaller fraction of the laser is sent around the shaper and is used as the probe pulse. The probe pulse is detected with a spectrometer and an array detector.
The same basic setup can also be used for coherent control experiments. The shaper is used to generate arbitrarily shaped pulses which interact with the sample, while the probe pulse is used to detect the state of the system.
References
Two-Dimensional Electronic Spectroscopy Reveals Excitation Energy-Dependent State Mixing during Singlet Fission in a Terrylenediimide Dimer, Journal of the American Chemical Society (2018), 140, 17907
Residue-specific structural kinetics of proteins through the union of isotope labeling, mid-IR pulse shaping, and coherent 2D IR spectroscopy, Methods (2010), 50, 12-22
Controlling Vibrational Excitation with Shaped Mid-IR Pulses, Phys. Rev. Lett. (2007), 99, 038102
Mode selectivity with polarization shaping in the mid-IR, New J. Phys (2009), 11, 105046
2D Heterodyned SFG Spectroscopy
Transient 2D Spectroscopy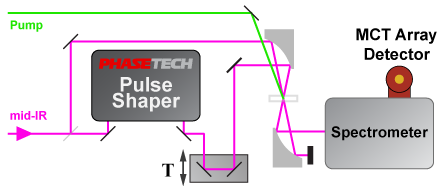 Time-Domain &amp Frequency-Domain SFG
& Other Delay Scanning
Economical Transient Mid-IR Spectroscopy
& Other Spectrally-Resolved Measurements